Power BI + ODATA + SAP Hana
Access SAP data with PBI connector "OData feed"
Available services can be found via T-Code n/iwfnd/maint_service
Copy a service in column "External Service Name"
Connect to the data with PBI OData feed: /DEFAULT_HOST/sap/opu/odata/sap/'service name'


Example:
SD_BILLINGDOC_PROCFLOW_SRV
Goto Power BI Get Data.
Determine the first part of the URL with SAP port number when you open any html Fiori app




Available tables will show.
In the image the most right column is a custom m-code column showing the current row count of each table. Click in a cell of the Data column to see a preview of the content. Carfefully, a click on "Table" adds another query step.
C_ tables indicate transaction data, I_ tables interface data aka master data and header data.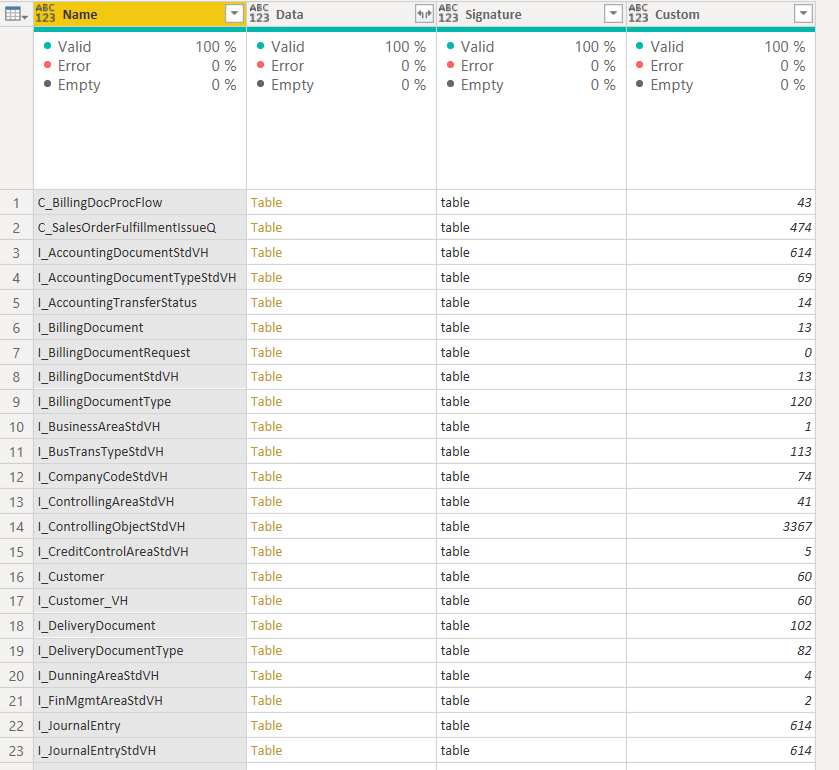 Improve performance using odata URL modifications, eg
add "/I_DeliveryDocument" to the source URL and avoid evaluating other tables

sources:
www.odata.org
odata v4.0 might not be supported in your HANA release, hence URL modifications are limited
URL length limitations depends on the browser and is about 2k characters